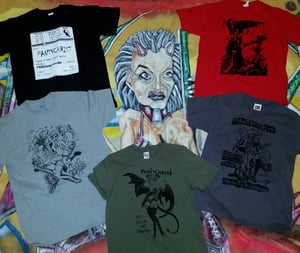 $

20.00
Print-on-demand shirts available from https://pantychrist.sellfy.store/ and https://www.teepublic.com/pantychrist
__________________________________________________
5 different designs to choose from:
Black "Prescription" shirt. Get your dose of Pandemonium....
Red "Zombie Kick" shirt. Let the undead know who's in charge.
Charcoal "Jingle Hell" shirt. Classic show poster.
Olive "No Gods No Masters" shirt.
Gray "Resurrection" shirt. The gospel according to Pantychrist.
Printed on various brands including Gildan, Allstyle, Fruit Of The Loom, Delta, etc. For specific sizing dimensions, please use contact box and reference the shirt design.
We do have Girls Shirts. Most are 1-of-a-kind colours and sizes so send a message about availability and quantities.
Prices in US dollars.