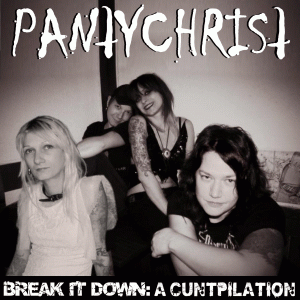 $

12.00
13 song cd featuring material from Pantychrist's hard to find earlier releases and some brand new tracks. Issued in 2011, 'Break It Down' includes material from ShEPeed (2004), Demolition Dirty (2005), Never Love Anything (2005), Pantychrist (2007), plus rare and exclusive tunes recorded in 2010 and 2011.
Track Listing:
Bitch (2011)
Peepers (2011)
Never Love Anything (2005)
Carve My Name Into Your Chest (2004)
Suicide (2007)
Break It Down (2011)
Money (2005)
DNA (2010)
Clinically Insane (2007)
The Cunt Song (2005)
Psychopatho (2011)
You Can't Tell Me What To Do (2005)
Rock N Roll (2004)
No additional shipping charges. Free shipping worldwide. Price in US dollars.